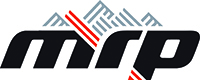 XCG Single Chain Device
MRP launches patented XCG Series of impact guards for cross-country bikes

Building on their integrated guard patent*, MRP will begin shipping a new, innovative series of components designed to protect chainrings and cranks from damage due to the occasional rock or log encounter. The XCG guards consist of a replaceable polycarbonate Skid direct-mounted to a 4mm thick alloy back plate.
Lots of cross country riders don't want to give up their big ring in exchange for a crank-mounted bash guard, nor do they want to add a large, heavy bash ring on top of an outer chainring. With an XCG, you can keep the big chainring on and not worry about damaging it on obstacles. The XCG is light weight, and costs a lot less than replacing a high quality 44T ring, so it's a great accessory for the fast and technically aggressive XC rider or for any rider looking to protect their investment.


The XCG Single install easily on any XC frame and add no rotational weight to the drivetrain.
Protects chain rings up to 36T
Great for single-speed setups
Bottom-bracket mount or ISCG
Weight: 100g
Free shipping on all website orders over £25 to UK mainland.