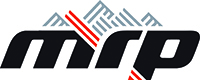 Micro Guide
Single-ring drivetrains are no longer just found on gravity bikes. Riders who desire the simplicity and dependability of a single-ring drivetrain but require compact front gearing for truly exploring all of the mountain now have a dedicated guide - the Micro Guide.

With recent advances in 10 and 11 speed gearing, it's now possible to get a wide range of gearing while using just a single, compact chainring and the Micro Guide.

Designed for 28-32t chainrings and incorporating MRP's patented integrated skid, the Micro is a blessing for aggressive all-mountain and 29" riders who were previously unwilling to give up a "low" gear.

The modular skid design of the Micro allows the user to remove it when deemed unnecessary for the terrain, but retain the lower chain retention function of the guide.

Featuring captive slider nuts in the backplate and new retained and pivoting upper guide, installation of the Micro Guide is a frustration-free process.


Integrated skid protects chainrings and glides over rocks and obstacles (US Patents RE 42,436 / 8,235,849 Patents Pending).
Modular skid saves 40g when removed
Compatible with MRP Bling Rings
Nylon upper guide features tracked and grooved backplate interface and pivoting faceplate that allows for stable and straightforward installation.
Quietring wrap on the upper guide's tail mitigates chain-slap for quiet, muted chain retention performance in even the roughest terrain.
Optimised for 28-32t chainrings
ISCG, ISCG-05, and BB mounting options
Compatible with 8-11 speed drivetrains.
For single-ring drivetrains.
Please note that the backplate is grey.


"You may just be the type of rider that should be using some sort of chain guide. Some people, especially those who are pushing hard and going fast over rough terrain, are just always going to need some sort of chain guide." - Mike Levy, Pinkbike 2015.




Free shipping on all website orders over £25 to UK mainland.