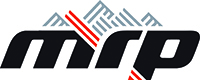 Mini Carbon G3 Chainguide

At MRP, we pioneered the concept of chain retention almost 15 years ago with our System 1 and years later revolutionized the field again with our G2. Never content to rest on our past achievements, we're excited to present the G3 - which promises unprecedented performance, durability, and usability for demanding gravity and trail riders.

The G3 features MRP's patented integrated skid, which protects critical drivetrain components like the crank and chainring from damage and glides over rocks and obstacles. New to the G3, the skid and lower guide are combined into one solid structure. By unifying these two parts, we've made the portion of the guide most exposed to damage able to take hit after hit. The skid and lower guide also feature our new attachment system, the Swingset. The Swingset system features a pivot at the forward skid mount that allows the skid to swing down for super easy crank and chainring installation. This feature along with the retained and pivoting upper guide allow for quick and frustration-free installation - achievable with just one single 4mm HEX wrench.

Another unique trait of the G3 is adaptability. The G3 is designed to allow the user to easily change out the lower guide to suit preferences and conditions. The user has a choice of running either a sealed-bearing pulley or the new G-slide slider block (included with all G3 guides). Free of moving parts, the G-slide provides quiet, low-resistance performance - especially well suited to muddy conditions and wet climates. Produced from urethane, the G-slide was extensively tested to achieve maximum durability and minimize lost efficiency over the pulley option.

All of these features are bundled into a sub-200g package designed to last season after season.

- Integrated skid protects chainrings and glides over rocks and obstacles (US Patents RE 42,436 / 8,235,849 Patents Pending).
- Combined skid and lower guide design increases durability and simplifies installation. (Patent Pending)
- Swingset pivoting skid mount for fast and easy crank and chainring installation. (Patent Pending)
- Optional G-slide slider block (included with every guide) can replace the lower guide pulley for quiet, dependable operation in muddy and dank conditions.
- Nylon upper guide features tracked and grooved backplate interface and pivoting faceplate that allows for stable and straightforward installation.
- Quietring wrap on the upper guide's tail mitigates chain-slap for quiet, muted chain retention performance in even the roughest terrain.
- Available in "Mini" 32-36t and "Mega" 36-40t sizing
- No specialty tools needed! All install and adjustment operations possible with just a single 4mm HEX wrench.
- Alloy or Carbon backplate options
- ISCG, ISCG-05, and BB mounting options (BB mount option not available for carbon models)
- Compatible with 8-11 speed drivetrains.
- For single-ring drivetrains.
- Available in black or white

You may just be the type of rider that should be using some sort of chain guide. Some people, especially those who are pushing hard and going fast over rough terrain, are just always going to need some sort of chain guide. - Mike Levy, Pinkbike 2015.




Free shipping on all website orders over £25 to UK mainland.